When Do Sea Turtles Nest in Cocoa Beach?
Florida is the number one place for sea turtle nests in North America from March through September. In fact, March 1st is the official start of the sea turtle nesting season, but precisely when sea turtle nesting season starts depends on where you are in the Sunshine State. For those on the Atlantic side, March marks the beginning of nesting season, while April or even May tend to be the prime nesting times along Florida's Gulf Coast.
Bottom line, from March all the way through the end of October, several species of sea turtles on Florida's Atlantic and Gulf Coast beaches will begin to make nests and lay eggs. Here's a breakdown: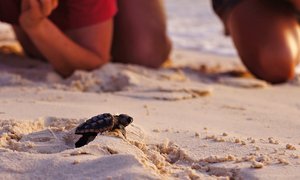 MARCH – JULY: Leatherback sea turtles come ashore from March - July to lay eggs. Florida is the only state where leatherback sea turtles nest on a regular basis. With the exception of a few nests on the west coast, leatherbacks nest almost exclusively on the East Coast of Florida, with 50% of leatherback nesting occurring in Palm Beach County.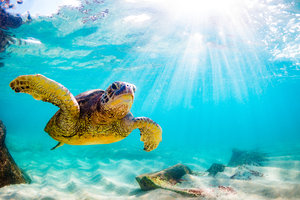 APRIL – SEPTEMBER: Loggerhead sea turtles nest in Florida from April through September. In the United States, 90% of all loggerhead nesting happens in Florida, mostly on the east coast of Florida. In fact, (though there is a slight lag in data) in Brevard County alone there were 23,457 loggerhead nests in 2014.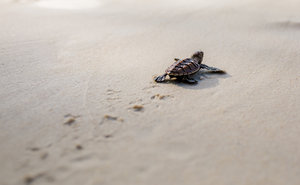 JUNE – SEPTEMBER: Green sea turtle nesting happens from June through late September in the Sunshine State, with the highest level of nesting on Florida's east coast – but green turtle nests have also been found in every coastal county of Florida at one point or another.