Things to do in Cocoa Beach Florida
We can help our guests with finding things to do in Cooca Beach Florida such as: dining reservations, local events information, and outdoors activities. Take a look below to see where to eat in Cocoa Beach, attractions near the hotel, and more!
Our Dining Recommendations
The Fat Snook 321-784-1190
Less than one mile from the Beach Place Guesthouses, settle in for some delicious fresh local seafood at the Fat Snook. The Fat Snook is dedicated to supporting local trade and serves hand-selected wines and craft beers. If you want a night out, enjoy a truly unique experience at the Fat Snook.
Fat Kahunas 321-784-6858
Enjoy excellent service and even better food at Fat Kahunas, just two miles from the Beach Place Guesthouses. Fat Kahunas serves up fresh daily seafood as well as a number of grill options and salads.
Simply Delicious 321-783-2012
Grab a sweet treat or a bite to eat in the morning at Simply Delicious, a café and bakery located just 2.2 miles from the Beach House Guesthouses. Don't miss their Sunday brunch deal, and be sure to try something from the pastry counter!

Don't see something you like? Feel free to reach out to us at the Beach Place Guesthouses and we will be happy to offer you personalized suggestions for great things to do in Cocoa Beach!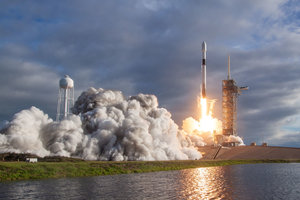 Kennedy Space Center
Take a day trip to the Kennedy Space Center, about a 35-40 minute drive from the Beach Place Guesthouses. You will get to see many different features and exhibits, as well as historic spacecraft and memorabilia. Catch a show in one of the Center's two IMAX theaters.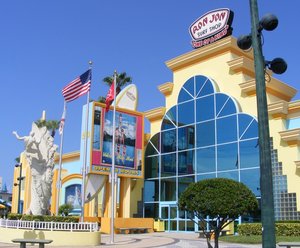 Ron Jon Surf Shop
4 miles down the beach, check out Ron Jon Surf Shop find some of the best surfing and bodyboarding equipment on Cocoa Beach. One stop at Ron Jon's and you'll be set to surf for the rest of your trip!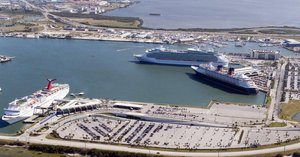 Cape Canaveral Cruise Port
If you are planning to take a cruise, the Beach Place Guesthouses are ideally located just 20 minutes from the Cape Canaveral Cruise Port. Cape Canaveral Cruise Port is the world's most popular cruise port, and has more recreational facilities than all other Florida ports combined!