Beach Place Guesthouse and Beach Amenities
When you visit our resort-style hotel on Cocoa Beach in Florida, we are happy to provide you with everything you might need for a relaxing stay, plus some very unique extras! Whether you are spending the day on the property, in your guesthouse, or on Cocoa Beach, we are happy to accommodate anything you might like to do!
Whether you want to partake in a complimentary yoga class, a family barbecue, a bonfire on the beach, or a snooze in a hammock, we have you covered at the Beach Place Guesthouses. Contact us if you have any questions regarding the amenities we have to offer our guests. Our beach equipment and amenities are free to all of our guests.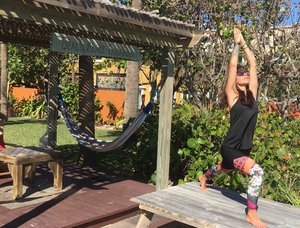 Yoga Classes
Start your vacation right with a morning yoga class at the Beach Place Guesthouses in Cocoa Beach, Florida.
We understand the importance of relaxation when you take a much deserved holiday with us. Enjoy a peaceful morning away from all the hustle and bustle and truly relax so that you can return from your holiday refreshed and rejuvenated. Let us know when you arrive if you would like more details - see you there!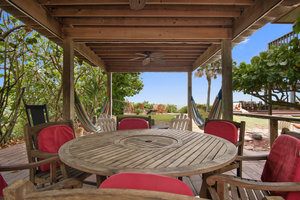 Barbecue Decks
Want to have a barbecue on the beach? When you stay with us, take advantage of our onsite barbecue deck and enjoy a day by the grill. Our barbecues are ready to use – all you have to bring is your food!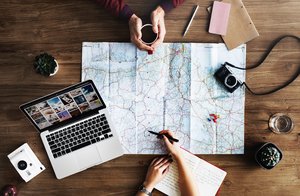 Concierge Service
We are happy to provide all guests with personalized suggestions for their stay with us. Check out our concierge page for some of our top recommendations of things to do during your stay.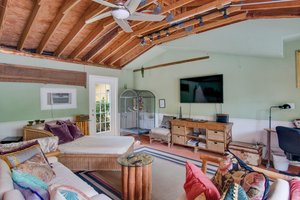 Rec Room - QuiQue's
On a rainy day, come and hang out in our onsite Rec Room! Our Rec Room has plenty of board games, a library of books and a large TV – perfect for a rainy afternoon in Cocoa Beach.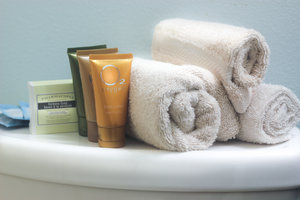 Complimentary Toiletries
At the Beach Place Guesthouses, we provide all of our guests with complimentary soap, shampoo, conditioner, and more.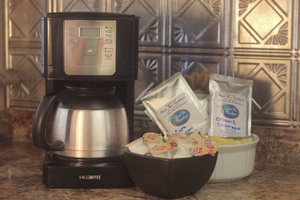 Complimentary Coffee
Each morning, wake up and enjoy a fresh cup of coffee in your guesthouse which includes a fully equipped kitchen.
Beach Chairs
Be comfortable on the beach in one of the Beach Place Guesthouses' beach chairs. You can sit and enjoy the Florida sun all day long. Use our stationary chairs or borrow a folding chair and take it right onto the sand with you!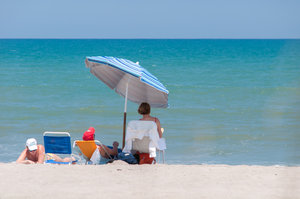 Beach Umbrellas
Keep cool by using a complimentary beach umbrella for those long days by the ocean. We want to ensure that all of our guests are comfortable when they stay with us at the Beach Place Guesthouses.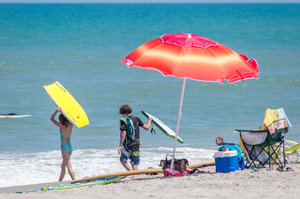 Boogie Boards
Grab a complimentary boogie board from us during your stay at the Beach Place Guesthouses and enjoy a day full of fun at the ocean.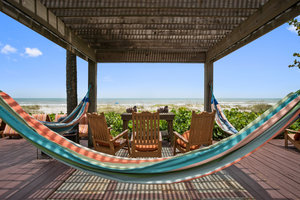 Hammocks
Take a snooze in one of our hotel's many hammocks at the Beach Place Guesthouses in Cocoa Beach, Florida.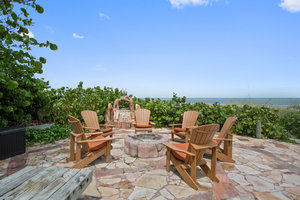 Fire Pits
At night, enjoy a bonfire on the beach at one of our many fire pits at the Beach Place Guesthouses. You can sit back, relax, and have a great evening.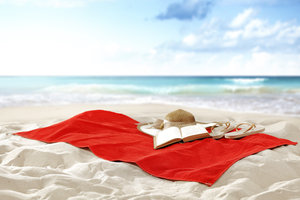 Beach Towels
Save some space in your suitcase and leave the beach towel at home. The Beach Place Guesthouses provides complimentary bath and beach towels for all guests.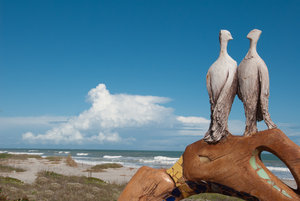 Proximity to the Beach
The Beach Place Guesthouses are located right on Cocoa Beach – you are just steps to the sand! Take advantage of all the great perks of a beachside hotel including swimming, turtle watching, boogie boarding, surfing, and much more!